Face Painting - Reviews + Letters of Recommendation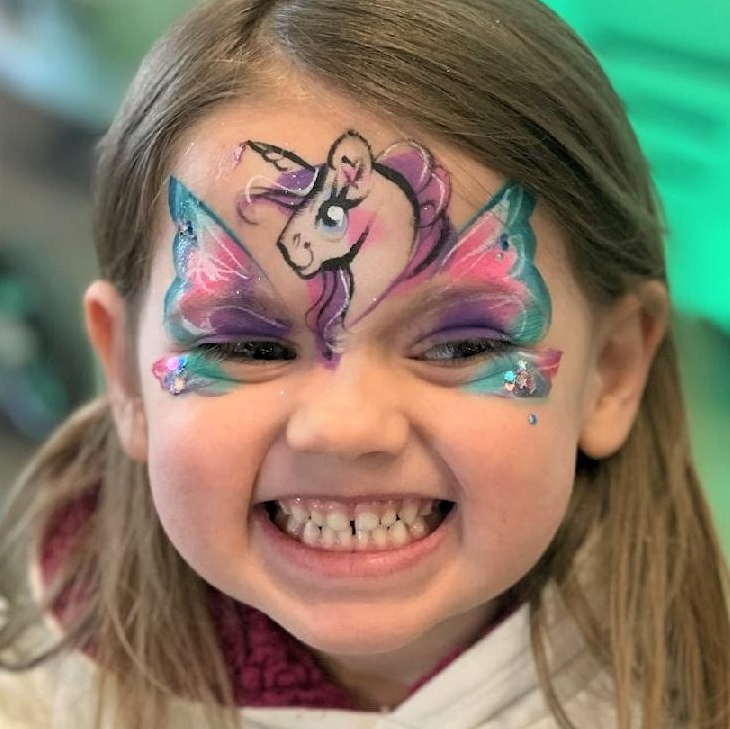 Brittany is absolutely amazing! We hired her for our daughter's sixth birthday party and all the kids were elated! She not only does incredible face paintings, but she also brings incredible patience and magical vibes! Brittany was very punctual and set up her studio right in our yard:) HIGHLY RECOMMEND
Brittany is so talented and amazing at her trade! We have had experiences with her prior to having her come for my sons birthday party and she is always gracious and kind! She is very professional and always tries to accommodate any request for specific designs!!!
This little girl was so unbelievably proud to show off her beautiful unicorn that she got at the farmers market this morning! Such great and quick work!
Whimbubble Studio did a FABULOUS job at my daughters 5th birthday party. She is so absolutely talented. Super beautiful work. Most of the girls wanted rainbow unicorns, and she made each one a little different. She was also so kind and fun!
Beyond AMAZING!!!!!! Thank you for making my daughters birthday amazing!!! Your talent is phenomenal!! HIGHLY RECOMMENDED!
I can't say enough about how amazing Whimbubble Studio was!! She definitely made the party so much more special. She is also so talented and super fast!
She came to my daughters birthday and was amazing! I swear she did 10 unicorns and each one was unique!! Highly recommend Brittany!! Everyone was blown away at her skills!! Thank you so much!!
Brittany is AMAZING!!! She came to Kyria Child Care Center today and painted all of the kids faces or arms. She works fast and efficient. We all LOVED each and every one of our paintings. BEST FACE PAINTER EVER!!!!!
An absolute amazing artist!! My daughter left with the biggest smile I've-ever seen! So many compliments! Also cannot wait to use the glue on horns for my daughters birthday on her friends!
Brittany is an amazing artist! She was quick to respond to my questions. Her prices are super reasonable for the outstanding quality of her work, not to mention she was super fast! We received so many compliments on how beautiful the paintings were.
Brittany was so so great with our daughter who really wanted her face painted but was a little nervous, and the unicorn turned out sooooo amazing!
What an amazing artist!! Brittany is so incredibly talented, her face painting alone is an awesome reason to hire her. She also was wonderful with all kids, and extremely kind. Worth every dollar! We loved having her in our home to celebrate our daughter's birthday <3
Amazing work!!! Highly recommend. My daughter loved it!!!
We had the joy of Brittany doing our face paint this weekend! She does an amazing job and is very good with the kids! We really enjoyed her joining on my littles special day!
We booked Whimbubble Studio for my daughters 4th birthday party. She exceeded our expectations and it was a favorite by everyone who came to the party.
I'd book her again and again. Truly want to thank her for everything.
Your artwork is amazing!
I hired Whimbubble for my daughter's pottery painting birthday party. She came to the party location and painted all the girls faces. She is AMAZINGLY talented! Fantastic with the kids and so fast.
My daughter and I were at the Oshkosh Farmers market today and saw her there doing face painting. My daughter wanted it done and it was so great! The best I've seen for face painting! She was so sweet and friendly too!
Brittany was brilliant at my daughter's 4th birthday party...her work was fabulous, the kids were so happy and the parents were asking me for her details! We can't wait to have her back for our next event. Highly recommend!! Thanks so much, Brittany!
She painted 12 little girls faces and even a few moms too! She taught the girls how to paint their own self portrait. The girls loved her and her fun and whimsical personality. She was a true gem. I would absolutely recommend her!!! Thank you Brittany for an excellent experience for our 7 year olds!
Brittany was amazing with our Girl Scout troop! We highly recommend her. She is super talented and the girls also loved the craft project. Thanks so much for coming to our party!
Letters of Recommendation